Niall Horan moons crowd on British talk show
JUST ADDED: 5 Seconds of Summer will be rocking the stage at this year's iHeartRadio Music Festival Village in Las Vegas! The band sat down with Ryan Seacrest to break the news. Click here to buy your tickets now, before they sell out!
Listen to One Direction on iHeartRadio
Justin Bieber's isn't the only celebrity backside making headlines this week. One Direction member Niall Horan is letting his fans get a peek at his fanny, as well.
According to "E News," the singer stopped by British comedy game show "A League Of Their Own" on Monday, where he dropped his pants in the middle of the television appearance.
It was all part of a bit put together by the show's host James Corden, who suggested Niall put a temporary tattoo of his face on his body to reveal during the program for a laugh.
Apparently, it was the 19-year-old himself who offered up his booty for the temporary tattoo placement. The prank was supposed to be a gag on that fact that Niall is the only member of the boy band without any real ink.
Niall seemed to be quite pleased with himself, tweeting fans asking what they thought of the stunt.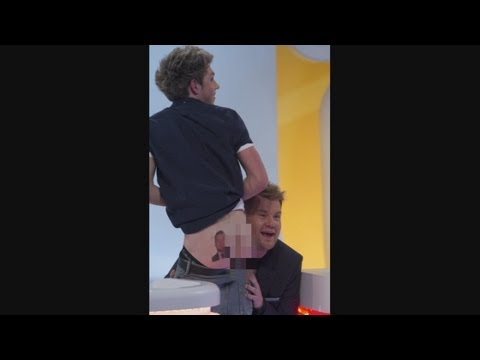 Photo Credit Getty Images